Sellside foresees another landmark for China's onshore bond market
Foreign investors are likely to double their stake in China's bond market by 2021, according to Asset Benchmark Research, propelled in part by additional indices including China
A majority of sellside individuals (65%) expect the international share of China's US$11 trillion bond market to surpass 5% within two years from an estimated 2.5% today, according to a survey* conducted by Asset Benchmark Research (ABR).
The inclusion of 364 bonds in the Bloomberg Barclays Global Aggregate Bond Index from April 1 is recognized as the latest milestone in the opening of China's fixed-income market, the third largest in the world.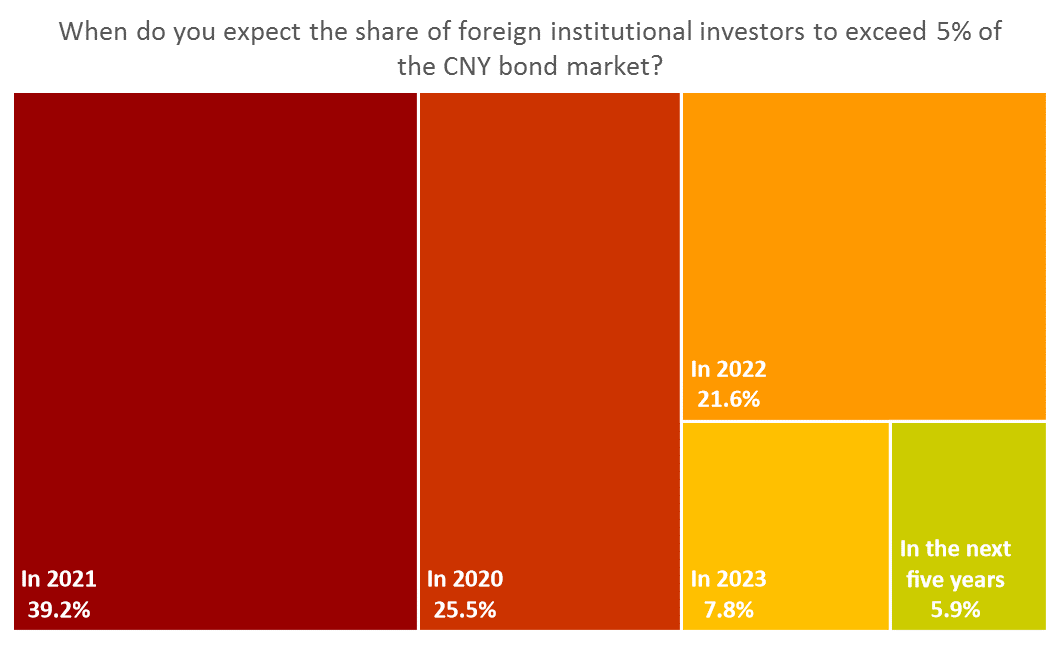 The inflow of funds is imminent, most respondents believe, and could accelerate rapidly as more indices include China. "The current onshore holding is 1.8 trillion yuan (US$260 billion). All it takes to reach 5% is to double this figure at the current total market size. With the Bloomberg index phase-in completing by 2020, it should bring in an additional 800-900 billion yuan (US$120 billion)," states Lillian Tao, head of ICG macro sales for China, at Deutsche Bank. "In the meantime, we will expect some other indices, such as JPM GBI-EM, FTSE or even Citigroup's WGBI, to continue adding China."
Sellside professionals anticipate the inflow from passive funds as a result of index inclusion will boost the foreign holdings of CNY bonds. "The current foreign holding is about 1.8 trillion yuan (US$260 billion). Five per cent of the market is around 4 trillion yuan. BBG Barclays inclusion is expected to create US$1-1.5 billion of passive flows. Along with inflows from active funds and other types of investors, and priced in the possibility of JPM and FTSE inclusion, there's a chance foreign share reaches 5% by end of 2020," says a salesperson at a European investment Bank.
Yet, questions remain about the inflow of active funds from overseas investors. "Given the magnitude of the onshore market at 13 trillion yuan, it will take a while for foreign investors to increase the participation, coupled with the fact the onshore bid is still very strong," says Xue-Wei Cai, a salesperson from DBS.
Moreover, in order to attract more foreign capital investment in China's onshore bond market, advancements of market infrastructure are needed. "As international rating agencies start to participate and the bond liquidity improves, overseas institutions are expected to invest more in China. However, it takes time to resolve alarming issues like inflated ratings and bond illiquidity, so we expect that it will reach 5% within three years," says a sales person with Agricultural Bank of China.
On a broader subject, when asked what would impact Asia's local currency bond markets in the coming 12 months, respondents that are active in CNY bond markets are particularly concerned about China's domestic issues: the trade war and the economic slowdown (50% for CNY sellside individuals compared to 32% for all survey respondent). They are less concerned with US Federal Reserve rate changes.

The survey of 346 sellside individuals took place between April 26 and May 14. The sellside individuals were nominated by investors taking part in the Asian Currency Bond Benchmark Review 2019, which covers 11 markets including China (onshore and offshore), Hong Kong, India, Indonesia, Korea, Malaysia, the Philippines, Singapore, Taiwan and Thailand. The review has been conducted annually since 2000 and provides a wealth of data on the product needs of investors and the market penetration of the banks that are active in local currency bonds. It also provides detailed analysis on investors' buying behaviour when selecting their counterparties.
To find out more about Asset Benchmark Research and our work, please click here.
To view the rankings of the best research, sales and trading individuals in Asian local currency bonds by country, please click here.