State Grid eyes German electricity operator amid uncertain political risk
Germany has yet to form a government nearly five months after the election – this uncertainty spells political risk for China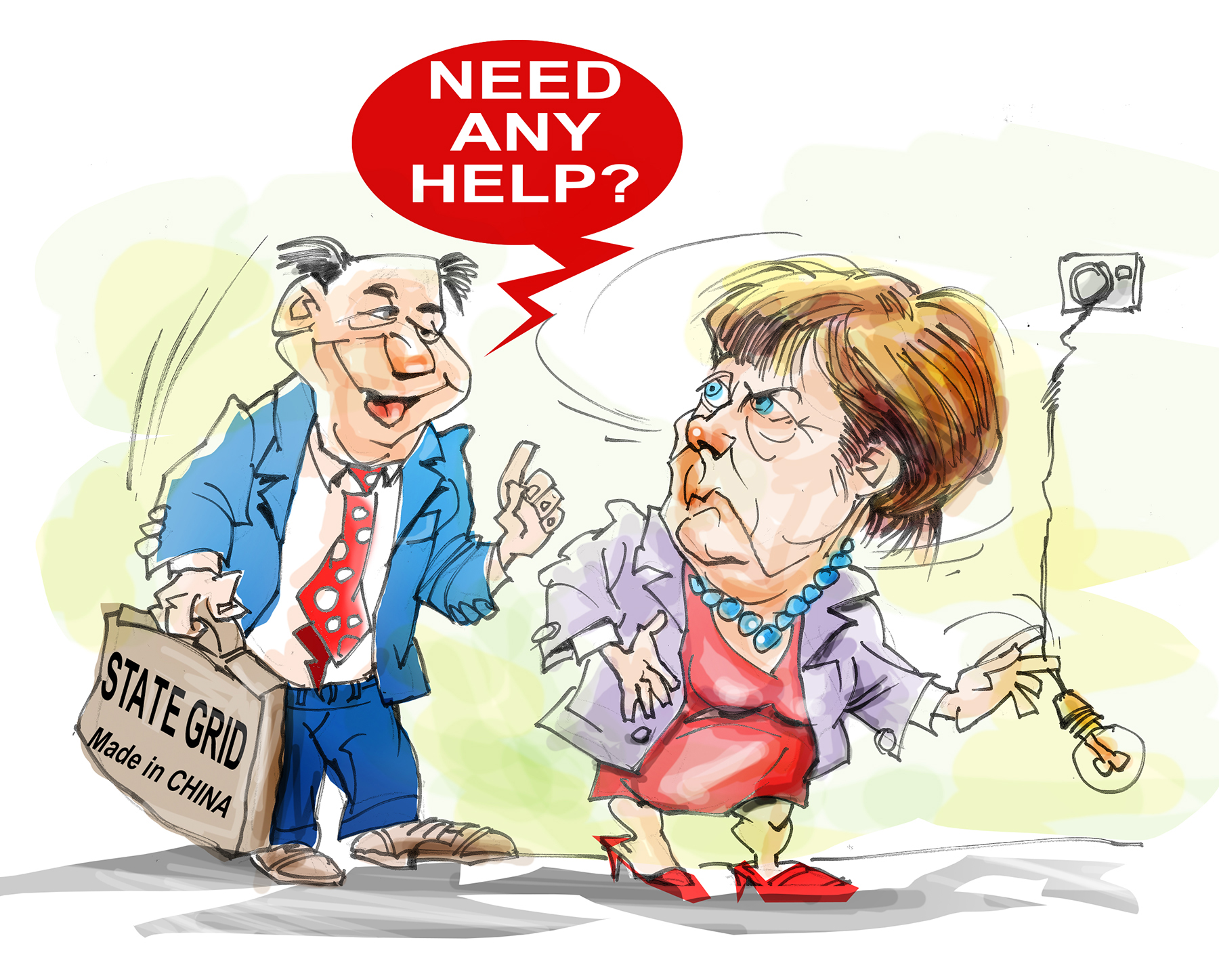 Illustration by Sara Sen
THE move by State Grid Corporation of China to acquire a 20% stake in Eurogrid International, the entity which owns German electricity transmission system operator 50Hertz Transmission GmbH, is sure to be politically controversial.
This comes just at the time that Germany is in the midst of forming a new government, and deciding on future policies on foreign acquisitions in sensitive sectors. As such, the success of State Grid's acquisition could turn on political developments on the ground in Germany. Crucially, the need for new elections remains a possibility. Fresh elections could spell increased political risk for China, with some politicians likely to take a stand against State Grid's acquisition.
50Hertz is currently owned by Eurogrid International, which is a 60:40 joint venture between Belgian electricity company Elia System Operator NV and Australian investment fund IFM Investors. Elia said last December that IFM was holding talks to sell half of its 40% stake in the joint venture to State Grid. Elia has right of first refusal to acquire IFM's shares. However, 50Hertz chief executive officer Boris Schucht was quoted in the German press as saying that he welcomes Chinese involvement.
Schucht noted that his company was already entirely foreign-owned, and highlighted the potential of cooperating with State Grid to advance plans to place a greater focus on environmentally friendly energy.
50Hertz is one of the four transmission system operators in Germany, mainly in the North and East, including the city of Hamburg. The company is responsible for the transportation of the wind power generated by plants off the Baltic Sea coast to the onshore power grid. There are around one hundred offshore wind turbines with a combined capacity of 339 MW feeding into the grid, with more being built. 50Hertz currently serves around 18 million customers in Germany.
During Xi Jinping's second five-year term, overseas M&A activity will have a heightened emphasis on areas such as infrastructure, the high tech industry and pharmaceuticals. In contrast, Chinese investors are now being actively blocked from moving capital overseas to acquire trophy assets such as office towers and luxury hotels.
But this is likely to increase tensions with the European Union, which has no objections to the sale of hotels and office towers, but is extremely concerned about Chinese ownership of basic infrastructure, and the takeover of high tech companies. This is because of fears of technology transfer, links to military applications, and strategic concerns about the operation of basic infrastructure.
According to local German media, State Grid was careful to hold some preliminary behind-the-scenes talks as the 50Herz deal got underway. And as long as its stake stays under 25%, the German government policy would generally be to not intervene to block a foreign buyer. Nonetheless, the acquisition of a stake in critical infrastructure such as a transmission grid enters the public consciousness in a way that many other deals do not, which makes politicians wary.
The possibility of the sale was originally announced in mid-December, and it comes at a critical time since Germany is still trying to form a new coalition government. The Federal election was on September 24, but with no new government formed the old one has been continuing in a caretaker capacity. Progress is being closely watched in Beijing, given Germany's powerful role within the EU.
Initially there were coalition talks between the Christian Democrats, their sister party the Christian Social Union from Bavaria (CDU/CSU), plus the free market-oriented Free Democrats and the Green Party. This combination might have been unwelcoming to China, since the Green Party tends to take a harder line on human rights issues, but those coalition talks broke down in November.
Subsequently, the CDU/CSU entered coalition talks with the socialist SPD. An agreement was reached last week – though it must be voted through by the 464,000 SPD rank and file members. The result of the postal ballot will be announced on March 4.
The new coalition agreement has already caused plenty of controversy. The SPD candidate for chancellor in the September elections was Martin Shulz, and he demanded the post of foreign minister for himself, in spite of having said on election night that he would never serve in a government under Angela Merkel. After a barrage of criticism last week from within his own party, Shulz announced that he would stand aside.
At the time of writing, that leaves Sigmar Gabriel ready to continue as foreign minister, though there are moves from enemies inside his own party to push him aside. Back in November 2016, Gabriel was economy minister, and annoyed China with his confrontational tone during a visit to Beijing, calling for a level playing field for German companies. Subsequently both Germany and France announced a special review procedure for sensitive companies being taken over by foreign buyers – a move seen as aimed mainly at China.
However, in spite of some of the usual tensions, since Gabriel moved to the foreign ministry it has been business as usual between Germany and China, and Gabriel met premier Li Keqiang in Beijing in May 2017. The Chinese side would probably be happy to see some continuity, working with Angela Merkel as chancellor, and Gabriel as foreign minister.
But things could yet change. Gabriel could be forced to step aside for another member of his own party. Or the Grand Coalition could be voted down by the SPD party members. That would mean new elections, and probably the end for Merkel. It could also mean increased political risk for State Grid.
-------------------------------------------------------

Social Media Links (This section can be seen in office only):
Twitter : https://www.theasset.com/article-single.php?id=34107&social=twitter
Linkedin : https://www.theasset.com/article-single.php?id=34107&social=linkedin
Facebook : https://www.theasset.com/article-single.php?id=34107&social=facebook