Financial crime compliance costs surge amid Covid-19
Firms adopting technology solutions found better prepared to deal with rising regulatory pressures
As financial crimes become more sophisticated, efforts to fight them are becoming increasingly costly. The ongoing Covid-19 pandemic has exacerbated the situation, increasing the opportunity for financial scams and wrongdoings as companies and individuals shift to online processes and transactions in view of social distancing rules and work-from-home arrangements.
Globally, the estimated cost of financial crime compliance across all financial institutions reached US$213.9 billion last year, surpassing the US$180.9 billion recorded in 2019, data and analytics services provider LexisNexis Risk Solutions says in its latest True Cost of Financial Crime Compliance Global Report.
Much of the sizeable expenditure increases came from Western Europe and the United States, which collectively represented 82.7% of the total projected costs. Germany and the US bore the bulk of cost increases at US$9.6 billion and US$8.8 billion respectively.
Meanwhile, Asia-Pacific saw a 27.2% growth in financial crime compliance costs to US$6.59 billion. Expenditures rose 21.7% to US$3.8 billion in Singapore, 32.1% to US$2.1 billion in Indonesia, and 43.8% to US$690 million in the Philippines.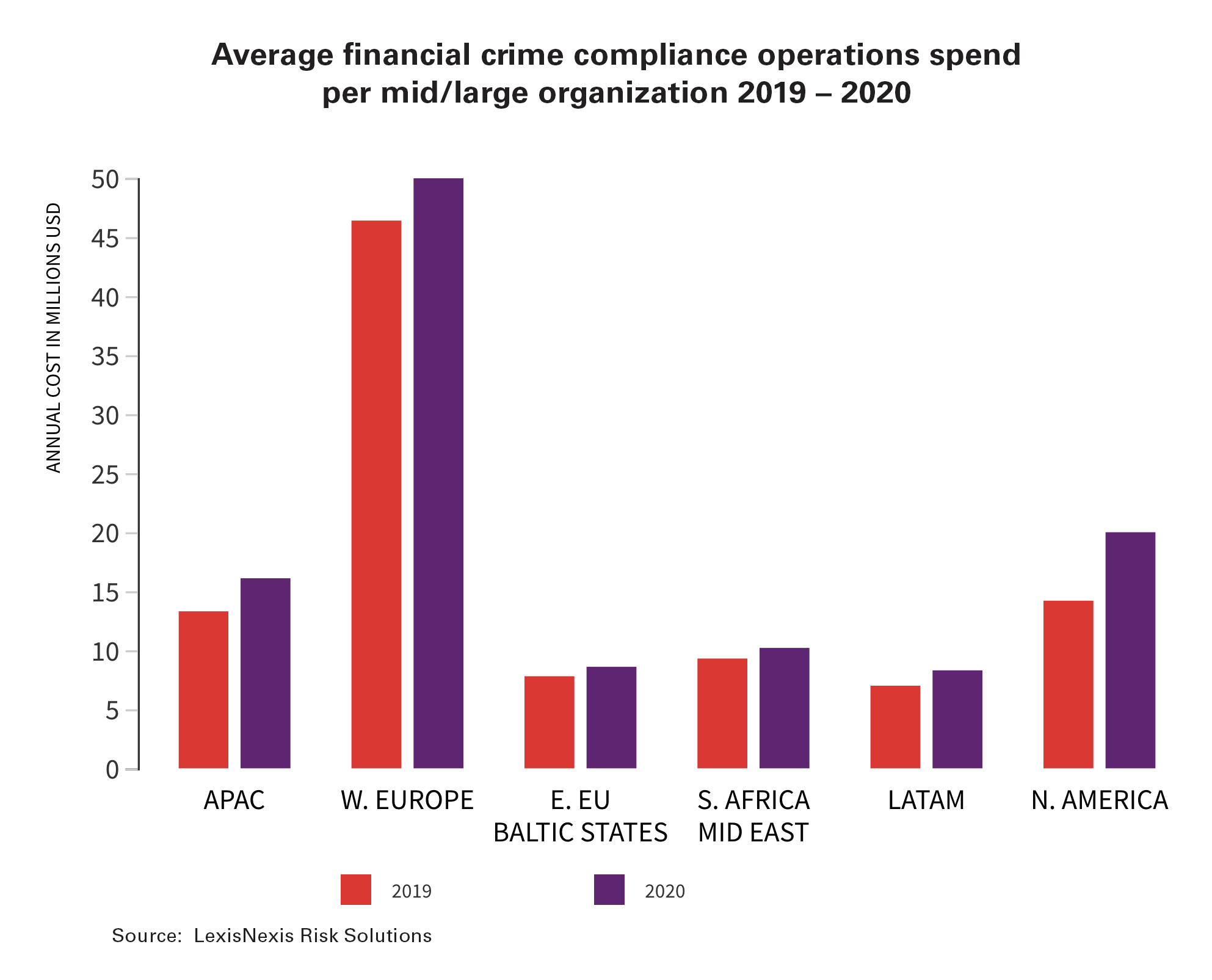 According to the report, financial institutions implementing technology solutions to support financial crime compliance efforts have been more prepared and less impacted overall by increasing regulatory pressures and Covid-19. Compared to firms that distributed more of their annual compliance costs to labour, those that allocated costs more toward technology are seeing smaller year-on-year operations cost increases, lower costs per full-time employee and fewer pandemic-related challenges.
"Financial institutions across APAC that allocate more financial crime compliance expenditure to technology realize smaller increases in cost compared to those with lower technology spend," says Douglas Wolfson, director of financial crime compliance at LexisNexis. "Firms with above average compliance spend on technology solutions are less challenged during the customer acquisition process."
"A large majority of APAC financial institutions surveyed expect the Covid-19 pandemic to further increase compliance costs over the next 12 to 24 months. The use of more comprehensive risk-management technology platforms will help ensure compliance and lessen financial crime compliance expenditure," Wolfson adds.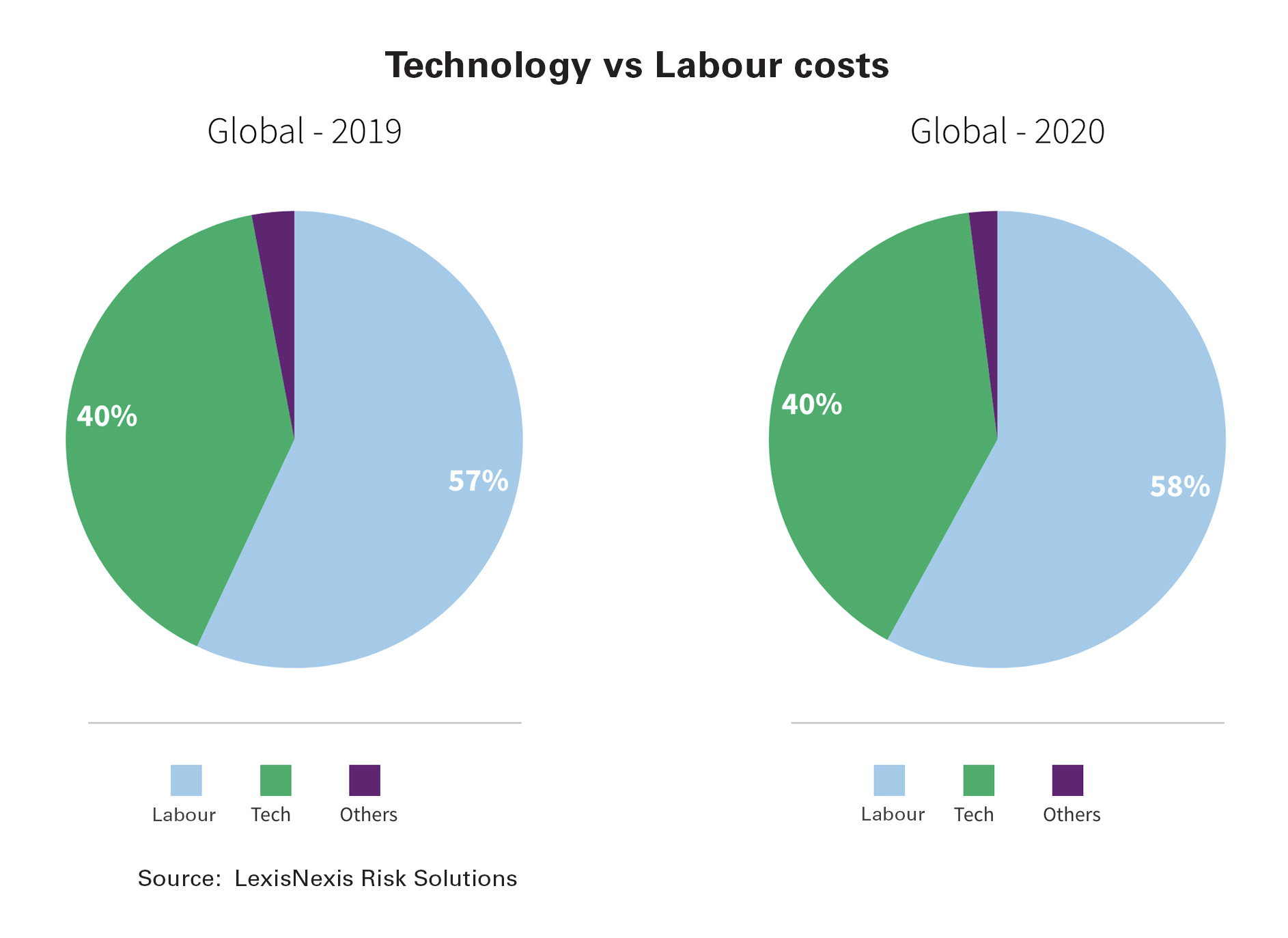 During the pandemic, Asia-Pacific saw an increase in money mule scams, medical scams, cybercrimes and fake crowdfunding, undue earnings, and cross-border transfers of illegally earned money. Unauthorized account access through skimming and phishing has also surged during the pandemic, while there has been an increase in reporting of unsubstantiated deposits and fund transfers.
For financial institutions, this has resulted in longer due diligence times impacting know your customer (KYC) for onboarding; more manual work, particularly where remote working connectivity has been an issue; increased alert and suspicious transaction volumes amid remote working challenges; lower productivity; and challenges with the identification and risk profiling of so-called politically exposed persons.
The report was based on a comprehensive survey of 1,015 financial crime compliance decision-makers at financial institutions including banks as well as investment, asset management and insurance firms globally. The respondents oversee financial crime compliance processes such as sanctions monitoring, KYC remediation, anti-money laundering and transaction monitoring.