Grab to list on Nasdaq via US$40 billion SPAC merger
Deal to pave way for largest-ever US equity offering by a Southeast Asian firm
Grab Holdings, Southeast Asia's leading ride-hailing and food delivery platform, on Tuesday (April 13) announced plans to go public in the United States through a merger with a special purpose acquisition company (SPAC).
To facilitate what it expects to be the largest-ever US equity offering by a Southeast Asian company, Singapore-based Grab has agreed to a business combination with Altimeter Growth Corp, a Nasdaq-listed SPAC sponsored by Altimeter Capital Management to raise capital through an initial public offering. Both Grab and Altimeter will become wholly-owned subsidiaries of a new holding company.
The deal is expected to give Grab an equity value on a pro-forma basis of US$39.6 billion and up to US$4.5 billion in cash proceeds.
The combined company expects its shares to be traded on Nasdaq under the symbol "GRAB" in the coming months.
"It gives us immense pride to represent Southeast Asia in the global public markets. This is a milestone in our journey to open up access for everyone to benefit from the digital economy," Grab group chief executive officer and co-founder Anthony Tan says in a press statement.
"This is even more critical as our region recovers from Covid-19. It was very challenging for us, too, but it taught us immensely about the resiliency of our business."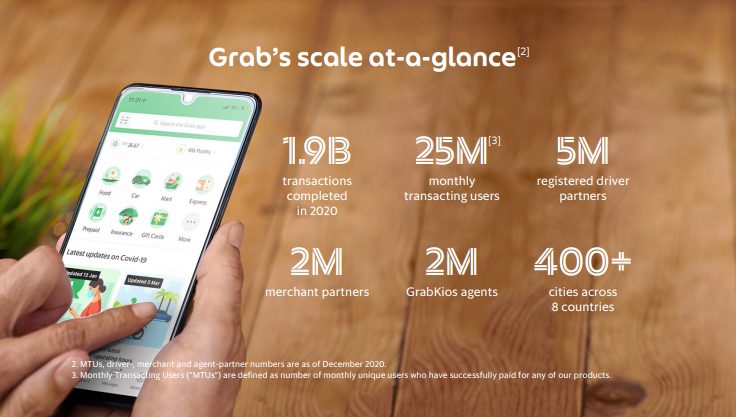 Grab Infographics
Grab's decision to become a public company was driven by its strong financial performance in 2020 amid the pandemic. The firm posted a gross merchandise value (GMV) of US$12.5 billion last year, surpassing pre-pandemic levels and more than doubling from 2018.
The company is now a regional market leader, accounting for approximately 72% of total GMV for ride-hailing, 50% of the GMV for online food delivery, and 23% of the total purchase value (TPV) for digital wallet payments in the region last year.
At the same time, Grab has made significant strides towards profitability, achieving positive segment EBITDA (earnings before interest, taxes, depreciation, and amortization) in mobility across all markets, and positive segment EBITDA in deliveries in five out of six countries.
The proceeds from the deal will include more than US$4 billion from a fully committed private investment in public equity (PIPE) offering that was upsized due to strong investor interest. Altimeter has also committed up to US$500 million to a contingent investment to be equal to the aggregate dollar amount of redemptions from Altimeter Growth's shareholders.
The PIPE was led by funds managed by Altimeter Capital Management, which committed US$750 million, with participation from funds and accounts managed or advised by BlackRock, Counterpoint Global (Morgan Stanley Investment Management), and T. Rowe Price Associates, as well as Fidelity International, Fidelity Management and Research, Janus Henderson Investors, Mubadala, Nuveen, Permodalan Nasional Berhad and Temasek.
Leading family groups from Indonesia including Djarum, the Sariaatmadja family and Sinar Mas also participated in the PIPE.
The proposed transactions, which have been approved by the boards of directors of both Grab and Altimeter Growth, are expected to close in the coming months, subject to shareholder approvals and other customary closing conditions.
Altimeter has committed to a three-year lock-up period for its sponsor promote shares, 10% of which will go to the recently announced GrabForGood Fund to support programmes with long-term social and environmental impacts.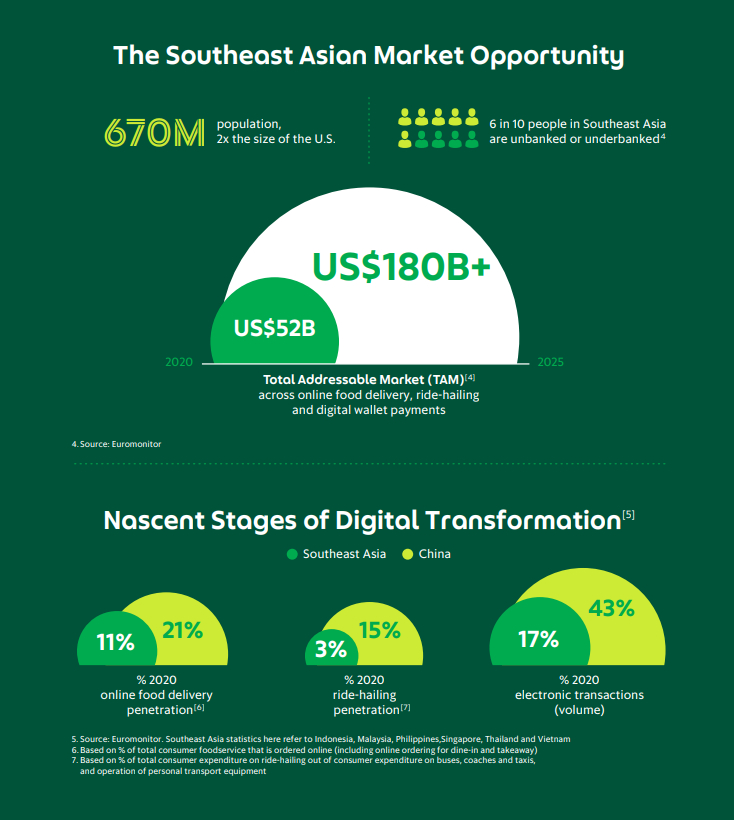 Grab Infographics
Treasury & Capital Markets