Investors look beyond government bonds to renewables
Opportunity presents as global energy transitions away from fossil fuels
3 Aug 2020
|
Bayani S Cruz
In today's challenging market environment investment portfolios have to be highly resilient, something that low-interest-rate government bonds can no longer provide. One alternative asset class that can provide this resiliency and diversification is renewable energy infrastructure.
Despite the pandemic's market disruptions, investment companies have been increasingly focusing on putting money into renewable energy infrastructure.
During the first half of 2020, investment companies in the renewable energy infrastructure sector led the way raising 352 million pounds sterling (US$318.5 million), according to data from the Association of Investment Companies of the United Kingdom. They were followed in the UK by traditional infrastructure (317 million pounds sterling) and commercial property (290 million pounds sterling).
Renewable infrastructure funds are long term by nature, can generate annual returns of 7% to 9%, and offer dividend yields of around 6% or higher, making them a possible substitute for long-term government bonds.
Renewable energy infrastructure involves a variety of activities, including wind and solar farms; hydroelectric, geothermal and biomass power-generating facilities; and wave and tidal technology.
In Asia, investing in renewable energy infrastructure is catching on. Taiwan's Financial Supervisory Commission recently approved investments of NT$2.5 billion (US$83.47 million) and NT$1.7 billion from Taiwan Life and Transglobe respectively, making them the first local insurers to invest in wind power.
Even global mega-asset managers have been investing in renewable energy infrastructure. A case in point, Blackrock, one of the world's biggest fixed-income investors, raised a record US$1 billion when it closed its renewable energy fund in December 2019, making it one of the biggest investors in renewable energy infrastructure as well.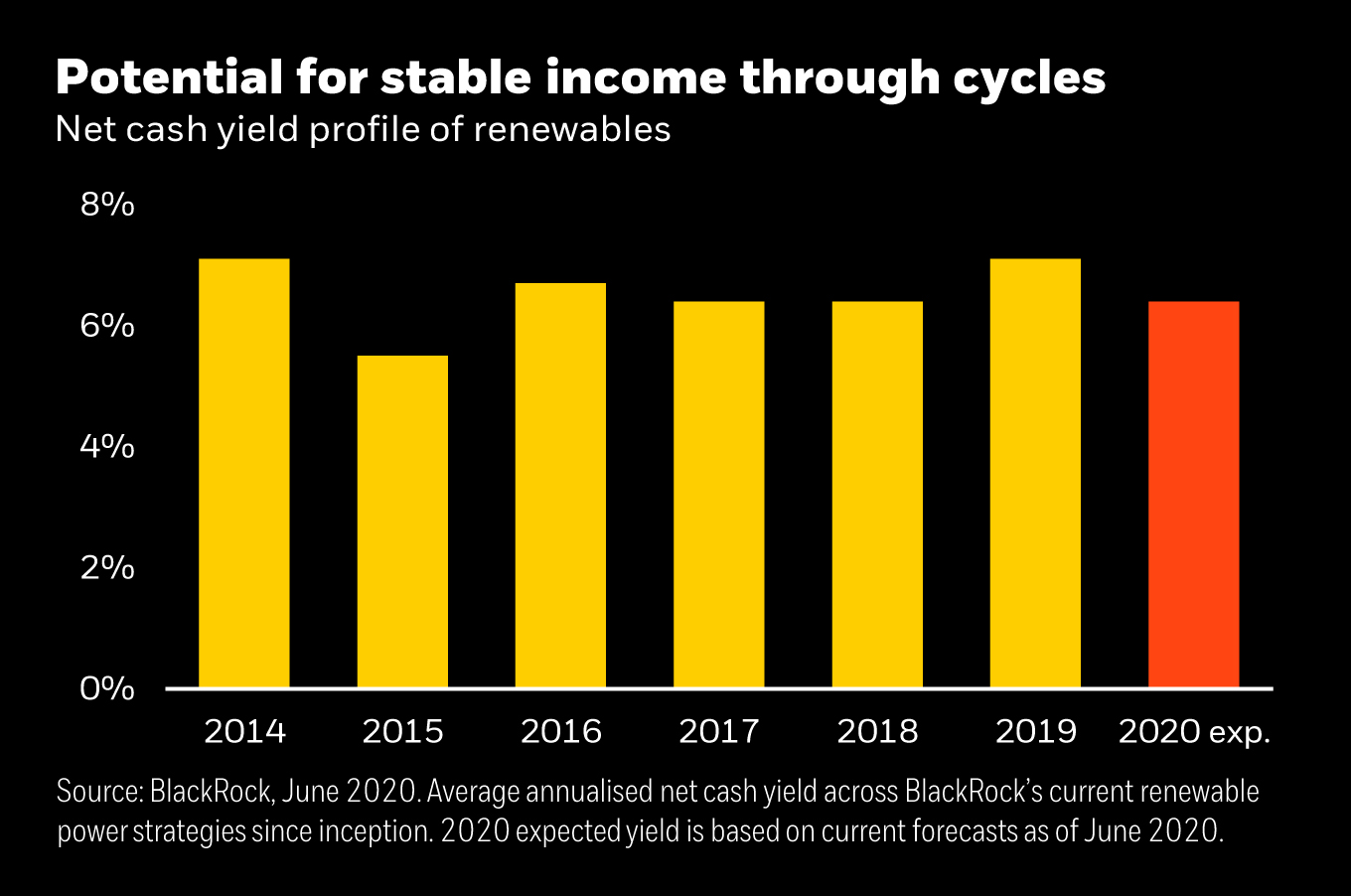 "The world is changing, and so should our investment portfolios," says David Giordano, global head of BlackRock Renewable Power. "Portfolio resilience has to go beyond government bonds and consider alternative return sources that can provide income and diversification. Renewables, as the largest opportunity in private infrastructure, are increasingly being asked to play that role in traditional portfolios."
In its Global Renewable Power Insight 2020 paper published in July 2020, BlackRock's renewable power team discussed the investment opportunities in the renewable power infrastructure market in an era of low yields, equity dividend cuts, and greater volatility.
The report argues that renewables represent one of the largest investment opportunities in private infrastructure. Investors who successfully navigate the current renewable power landscape can bring greater income, diversification and resilience to their portfolios.
Renewables represented 50% of global infrastructure deal flow in 2019, making it the largest opportunity in the asset class, which is being driven by a global energy transition from two-thirds fossil fuels to two-thirds renewables.
Asia-Pacific represents the future powerhouse of renewables, according to the report, as over half of the world's electricity is expected to be generated in the region by 2030. With its growing populations and economies, and a small installed base of renewable energy, the region can expect to lead investment activity in this sector over the coming decade.
Successful investing in renewable energy infrastructure, according to BlackRock, involves finding the best relative value, taking manageable risks, and positioning portfolios for change.
Finding best relative value means following local trends in demand, supply and policy, which will differ greatly from market to market. And, while the sector offers global investors tangible diversification benefits, it takes local and sector expertise to successfully capture the opportunities at hand. In addition, the reports states that, even though Asia-Pacific is the future powerhouse of renewable, investors in Europe need to be selective.
Taking manageable risks means that, in today's market, brownfield assets have the potential to carry greater risks than greenfield assets. "For investors who are equipped to manage risks, early-stage construction and late-stage development phases offer opportunities to generate attractive risk-adjusted performance," the report points out.
Positioning the portfolio for change means that the urgency for far-reaching climate action from nations across the globe is more evident today than ever before and investors must prepare for it. "Trends in decarbonization and electrification are reshaping the energy industry," the report states. "Electricity is replacing oil as the primary source of energy in the 21st century, presenting opportunities throughout the transformation."
Sponsored Section