How do you make a building green?
Sustainable financing is going into efficient buildings
Green bond proceeds have mainly been used to finance renewable energy projects but are now funding energy-efficient buildings. What is a green building and how do we gauge its contribution to the environment?
Companies use proceeds of green bonds to fund renewable energy infrastructure, though they also support energy-efficient projects including buildings. In 1Q 2018, 26% of total global green bond proceeds were aimed at greening buildings. Efficient buildings account for the second largest share of proceeds behind renewable energy projects (32%), according to Moody's Investors Service.
In Asia there were several green bonds aimed at real estate assets. Asia's first green bond this year was from Hong Kong's Swire Properties that issued US$500 million green securities, proceeds of which will be used to refinance the company's green buildings. This was Hong Kong's first green bond since 2016 when Link REIT tapped the green bond market to finance green projects.
While carbon reduction in renewable energy projects seem easily understood in the market, little is known about what makes a building green or energy efficient. The World Green Building Council defines a green building as a structure that in its design, construction or operation, reduces or eliminates negative impacts on the climate and natural environment. Other definitions, such as one from the Hong Kong government, focus on meeting environmental and social goals like improving employee productivity and improving occupants' health.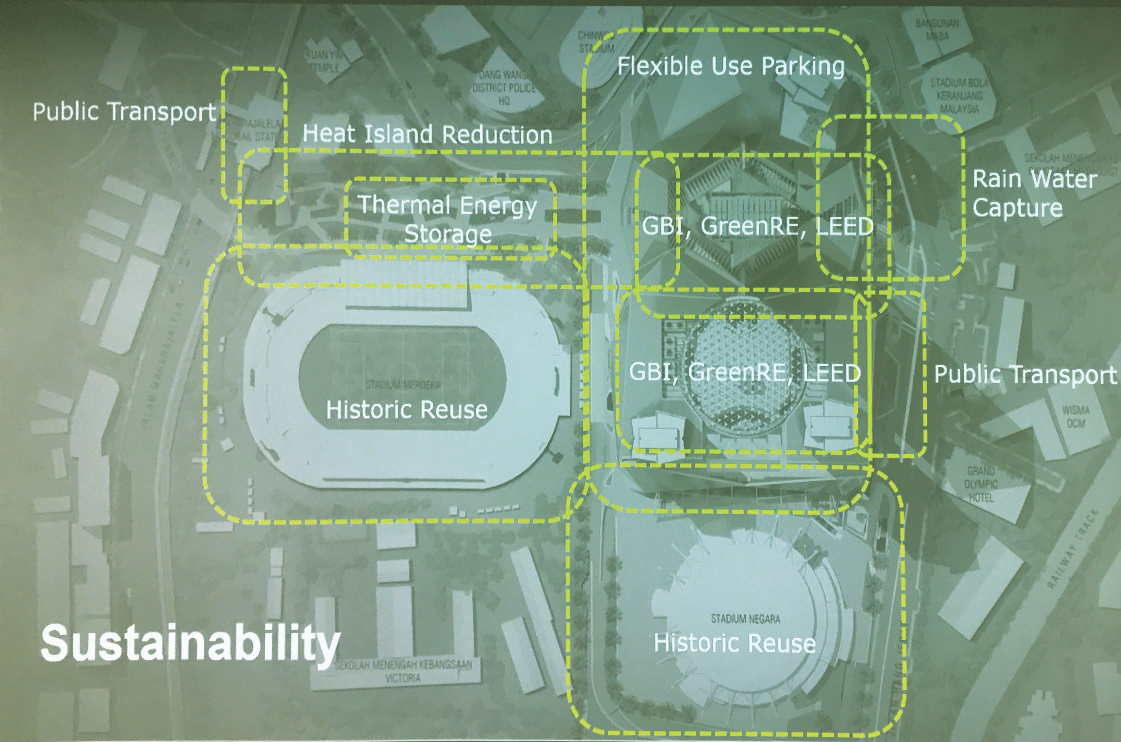 Merdeka PNB 118 aims to be the tallest and one of the greenest buildings in Malaysia
According to Esther An, chief sustainability officer at City Developments Limited (CDL), a green building uses efficient airconditioning and envionment-friendly retrofit materials. In 2017 CDL set a benchmark in Singapore, becoming the first company to issue a green bond in the city-state. It raised S$100 million (US$74 million) to refinance its Republic Plaza skyscraper. For An, the bond was a necessity given the negative carbon impact of inefficient buildings.
"There is a high carbon footprint in the building sector. It accounts for 40% of energy consumption worldwide and 30% of greenhouse gas emissions," shares An at The Asset 12th Asian Bond Markets Summit. "The Global Alliance of Building and Construction as well as the World Green Building Council have been advocating net zero emissions and stiff targets. By 2030 all new buildings globally must be net zero. By 2050 all buildings, old and new, have to be net zero. Singapore has a green building master plan. We target 80% of all buildings in Singapore to be at a green mark level by 2030."
According to Bank of America Merrill Lynch, in order to cap global warming to no more than two degrees, current CO2 emissions need to fall by 70% by 2050. CO2 emissions from buildings need to be pared by 73%.
Other interpretations of establishing an energy efficient building involve making better use of readily available resources. The Merdeka PNB 118 (KL118) skyscraper being constructed in Kuala Lumpur, Malaysia champions recycling. Next to Stadium Merdeka, it is set to be the tallest building in the country and the world's third highest.
"At the top of the tower [KL118] there is hot water that feeds into the building. There are solar panels on the south-facing canopy. Light wells in the tower bring natural light into the mall. In the nearby park we use recycled water and have 100% rain water capture going through a filtration system, which can be reused for irrigation purposes," shares Peter Ramstedt, vice-president and project director of Turner International Malaysia, the project manager of KL118. While the carbon reduction benefit will not be felt until completion in 2024, construction teams at KL118 already adopt green practices. "We focus on waste recycling. We diverted 84% of our rubbish from local landfills. That is over 7,000 tons of waste that has to been recycled such as concrete, steel and wood," says Ramstedt.
KL118 is being funded by a 2 billion ringgit green sukuk (Islamic bond), the first green sukuk issued under the Asean green bond principles. KL118 has the highest platinum certification from both international and local agencies. Similar to green bond certification firms, buildings can be verified by several different agencies such as LEED (Leadership in Energy and Environmental Design), Green Building Index (GBI) and GreenRE programme.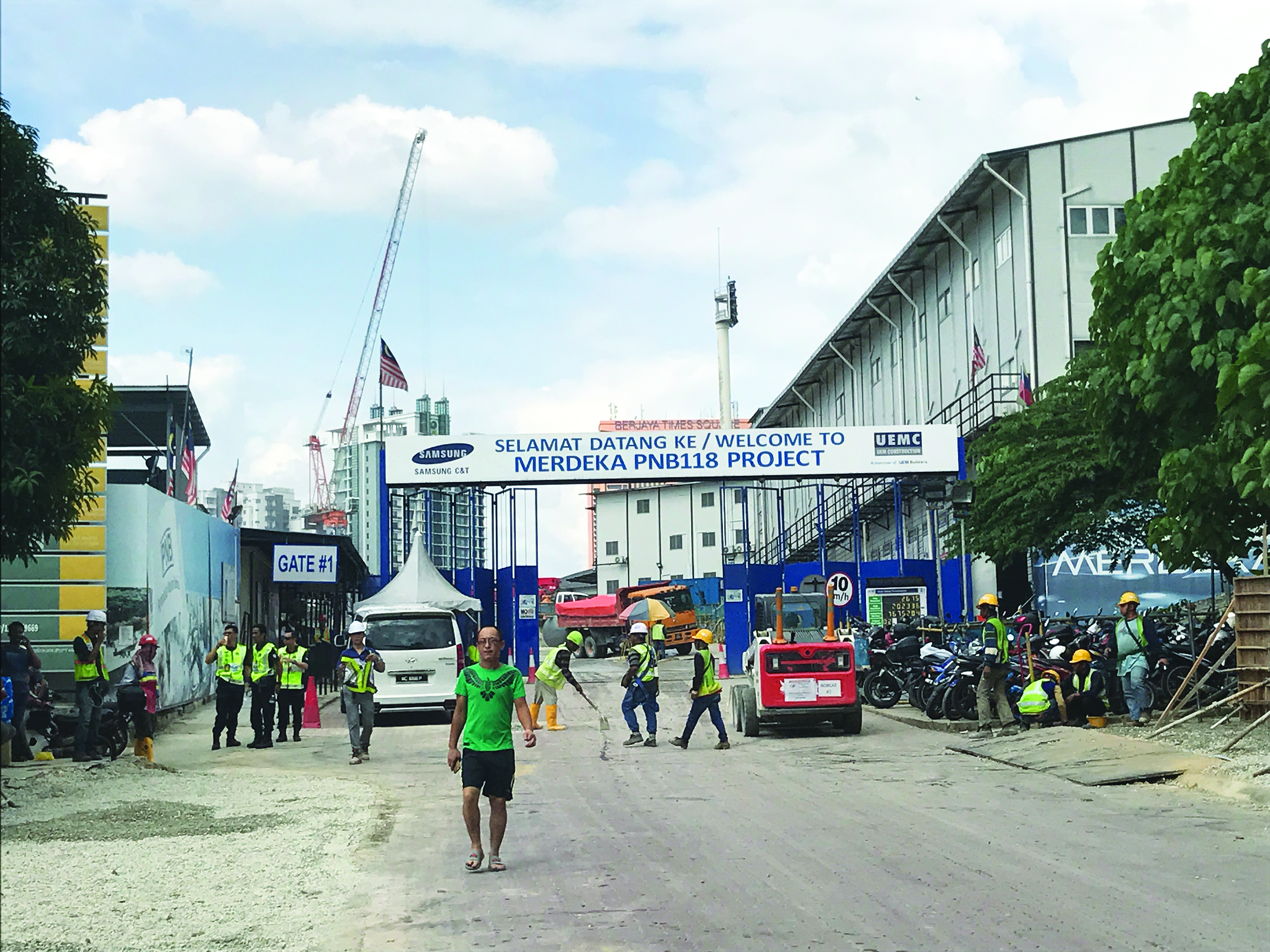 Setting the foundation for Merdeka PNB 118
The internationally recognized LEED uses rating methodologies based on whether a building is used for healthcare or hospitality services. It gives points to buildings depending on a number of factors like water efficiency, atmosphere, and the impact of light pollution and non-motorized transportation towards a building site. A top platinum score requires 80 points.
Green certification agencies like Malaysia-based GreenRe follow a similar model taking into account indoor environmental quality, rewarding buildings that maintain good air quality and use natural light.
Although renewable energy is critical in efforts to cut carbon emissions, more projects and financing such as green bonds targeting building efficiency are on the cards as cities, lacking the space for wind or solar farms, search for alternative ways to combat climate change.